This is the meme I posted a few days ago:
~Make me take pictures. Ask for pictures of whatever you can think of (me, my room, my favorite shirt, my pets, my husband, etc.), and I'll take the pictures and post them in a later post. Warning! Not dial up friendly.


fiery_twilight requested a picture of my pets and some local scenery.

Here are my kitties, Copper and Storm. Copper is the ginger cat, he's a male. Storm is the gray kitty and she's female.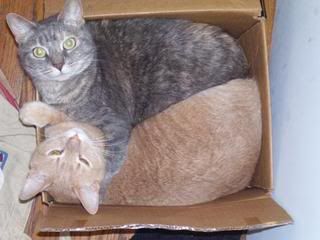 As for local scenery, I live a couple of miles from Valley Forge Historical National Park. I must admit I cheated a little bit here. My husband took these pictures.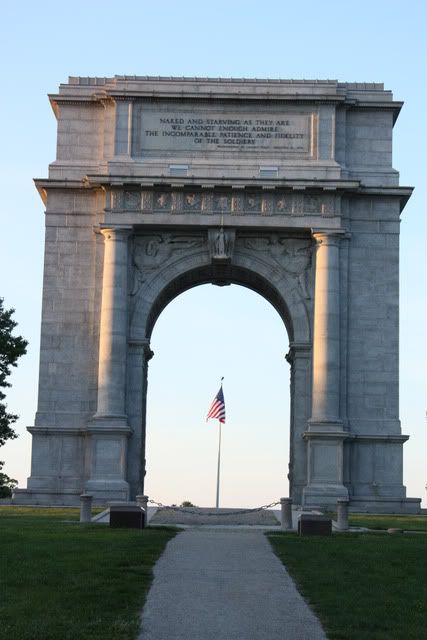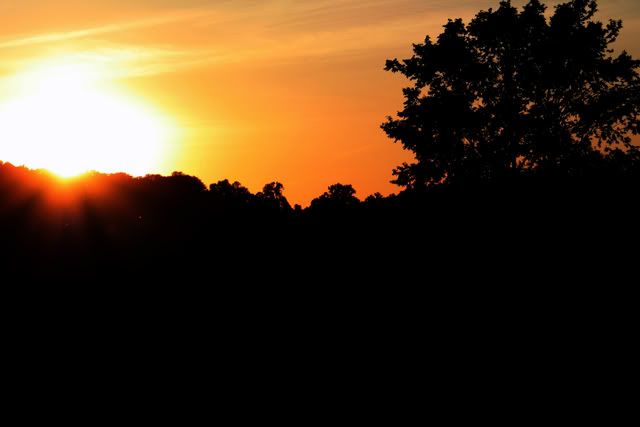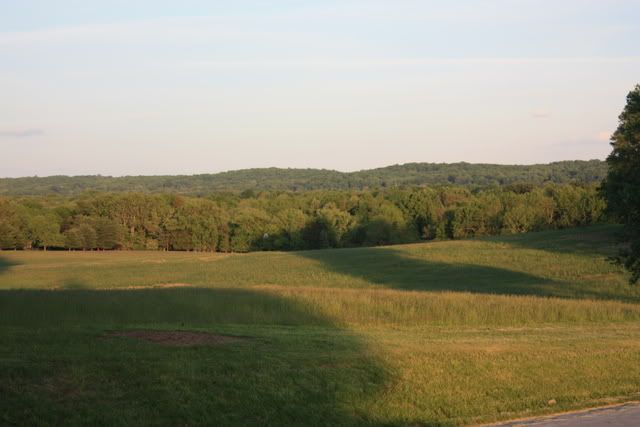 ivydoor wanted to see my computer.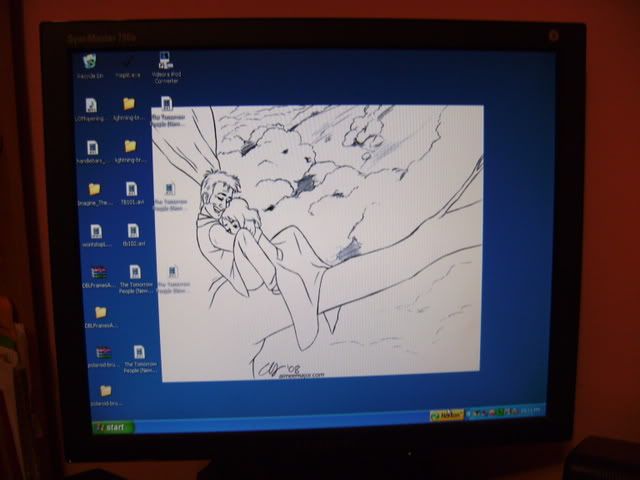 The background on my desktop us a picture entitled "Sun Up" and it was drawn for me by the amazing
aimeekitty for my Tenth Doctor/Rose story, Illumination.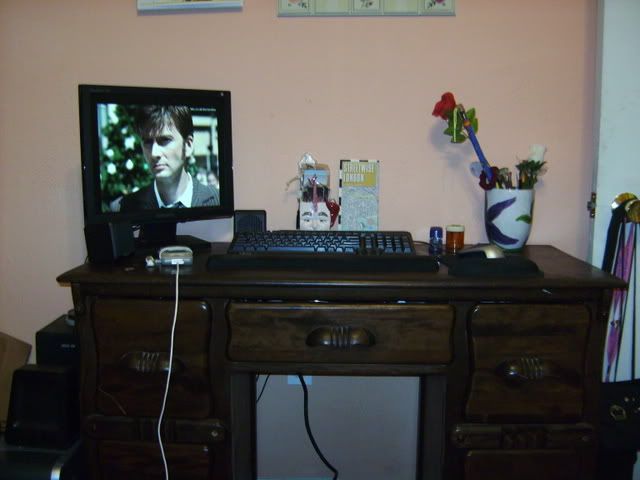 Here's a wide view of my whole desk. You can see my screensaver there, which is just a whole bunch of alternating Doctor Who pictures.



Here's a wide shot of my PC tower, with a different pic on the monitor. Nine FTW!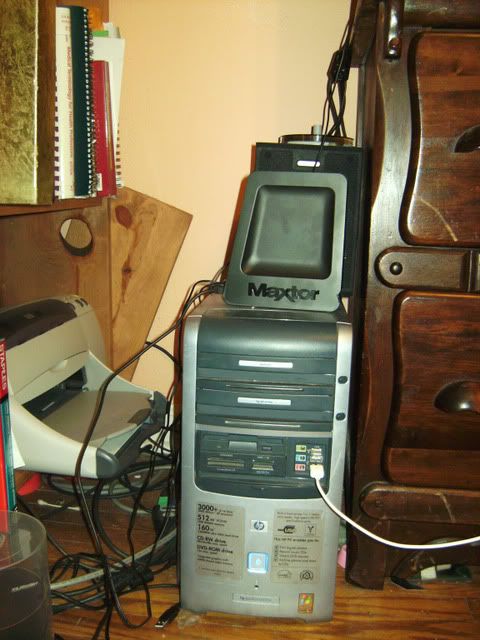 And here's a close up of my PC. In this pic you can also see my printer and my external hard drive. Yay!


vinceliav requested pictures of my library, my bookshelves, my husband, and my back yard. Whew! She asks a lot, doesn't she?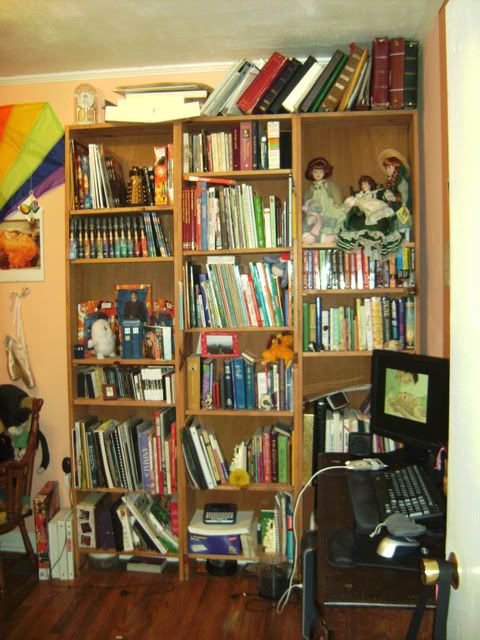 This is the wall on the right. You can see my computer, sporting a screensaver pic created by the incredibly talented
swankkat. This set of shelves sports a whole Doctor Who section as well as all of my non-fiction, religious texts, miscellaneous sci-fi, and literature.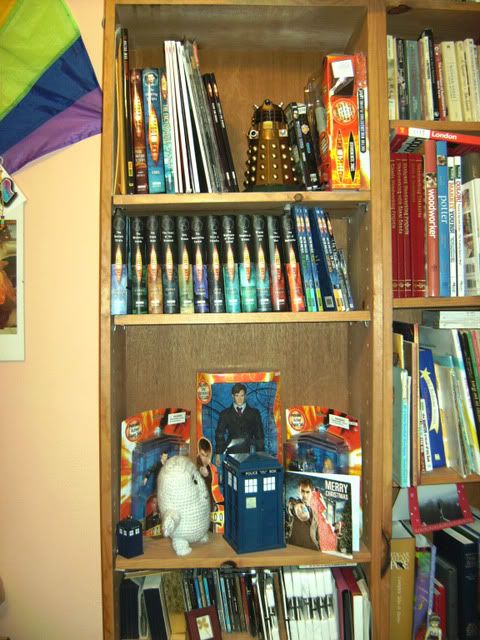 Here's are a couple of close ups of the Doctor Who section. Yes, that is an adipose. One of my bestest friends,
ganeris, had it made for me.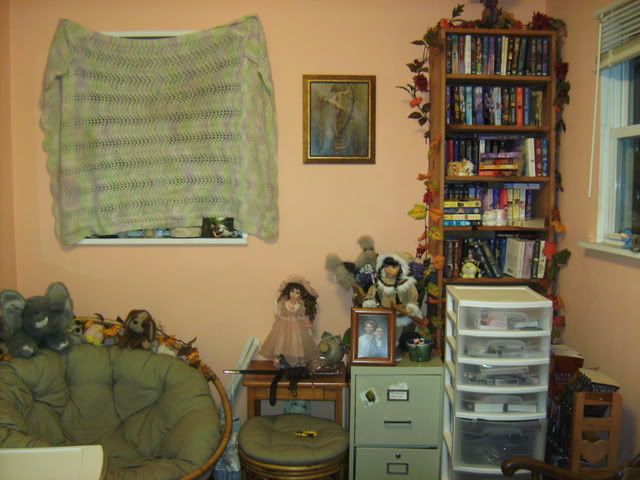 Here's the back wall. You can see some of my Mary Kay inventory, one of my shelves full of romance novels, a picture of a Mermaid and Merman in love, a few of my porcelain dolls, and some autumn leaves garlands that were decorations at my wedding six years ago.



The back left corner sports a papasan chair and a large Tenth Doctor/Rose poster.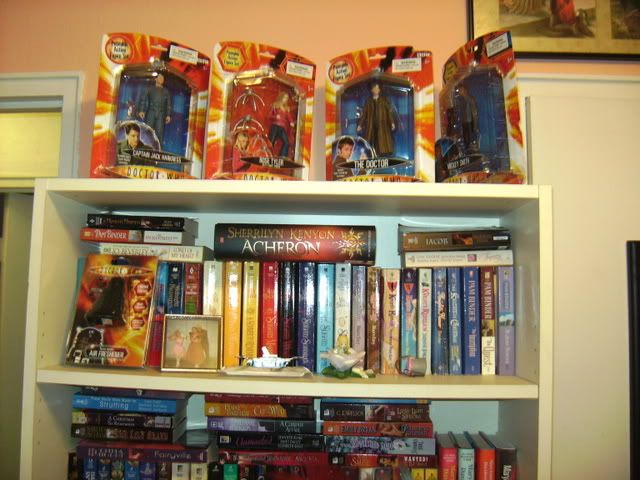 The wall on the left has another bookcase full of romance novels, more of my Doctor Who toys and my slight smaller Ninth Doctor/Rose poster.


Here are two pictures of my husband, Billy. One of them has me in it with him.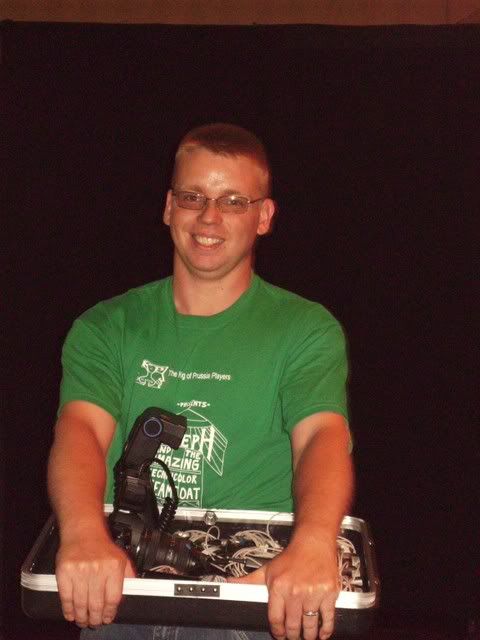 Billy the tech genius!



Here we are having fun at karaoke night.


Here's my back yard.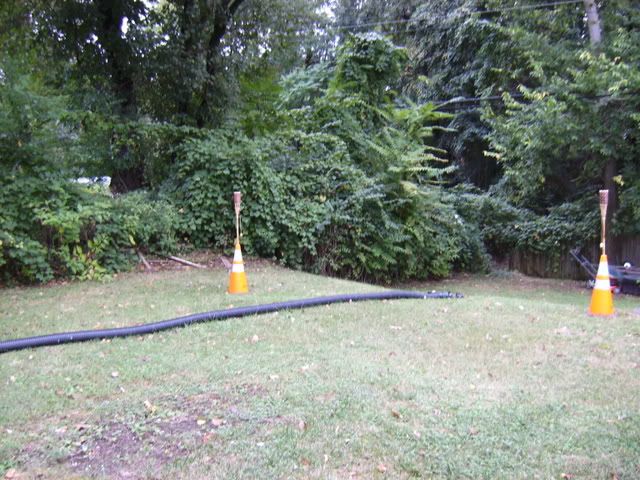 It's really not that impressive. There's a small grove of trees behind our house that separates us from a shopping center. It makes it look like we live in the woods. And yes, those are traffic cones. Billy used them to hold our tiki torches up when they wouldn't stick into the ground. :)